The Art of Grieving ~ Cremation Ashes InFused Glass Art Blog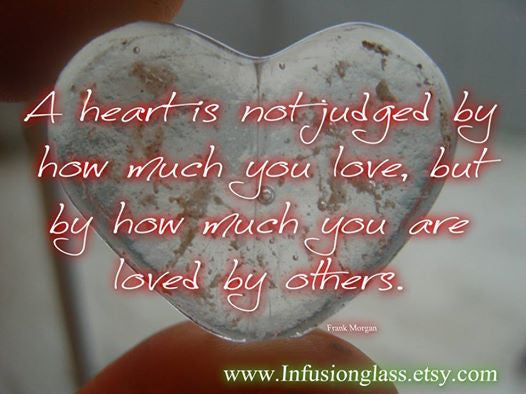 "With my last breath, I'll exhale my love for you"
Cremation ashes are not easy to work with. I spent over 6 years learning how to control the ashes in glass. Carbons release air and air creates bubbles. But what are these bubbles? Well it is the last bit of air absorbed into the body. I call it capturing the"last breath".
Although cremated remains are commonly called "ashes", in truth they are comprised of bone fragments. The cremation process destroys all traces of organic matter. The extreme heat of cremation (around 1400 to 1800 degrees) means that no traces of anything remains (regardless of the material) with your loved one's ashes. it is very common to find trace elements, particularly metals, in bone fragments. These metals are absorbed by the bones throughout an individual's lifetime and remain in the ashes. These metals give bone its extraordinary strength and durability and allow it to survive the intense heat required for cremation. These temperatures are what make it possible to put the ashes in glass. Glass becomes a honey like viscosity at these temperatures and it is then when the ashes can be trapped inside it.
When your trapping ashes in glass there is a time period and temperature where all of the air inside the bone fragments tries to escape. This is the last air left inside your body after cremation. I call it "the last breath". Not only does this cause bubbles in the glass but it can make it extremely difficult to work with the ashes in the glass. I have worked for years to learn how to control this and have now found a way to capture this "last breath" inside the glass. I have developed a special technique that takes days and multiple firings in the kiln to create my cremation memorials. Capturing Carbon Energy and The Last Breath. Carbon Energy at it's essence. We are all made from this. Energy never dies, it simply transforms.
Imagine a beautiful wind chime or sun catcher that the sun light shines through the ashes. Imagine a wonderful glass sculpture on your mantle of an ocean wave with the cremation ashes in the crest. Imagine a wonderful candle you can light that illuminates the ashes of your loved one inside the glass. Cremation memorial art is not just jewelry anymore.
I create one-of-a-kind works of art and jewelry that Infuses your loved one forever into glass. Everything I make is a special design. I work one on one with you to create a memorial that fits your loved one.Placing your loved ones, cremation ashes into glass is a beautiful, respectful, and loving way to show your appreciation and remembrance for the life that brought you so much joy. A glass cremation keepsake is the perfect way to show your love and remembrance and can be handed down from generation to generation